Isuzu UTE Australia (IUA) and Liquid Interactive are proud to announce the launch of the fourth generation Isuzu UTE website — the result of nearly a decade's collaboration.
Buying a car is a big decision.
Research shows that people invest more time in their decision to buy a car than they do choosing elective surgery.
Guiding buyers through that experience in a way that captures their imagination and builds confidence in the quality of their vehicles, has contributed to ten consecutive years of sales growth for IUA.
Their website is an integral part of this achievement.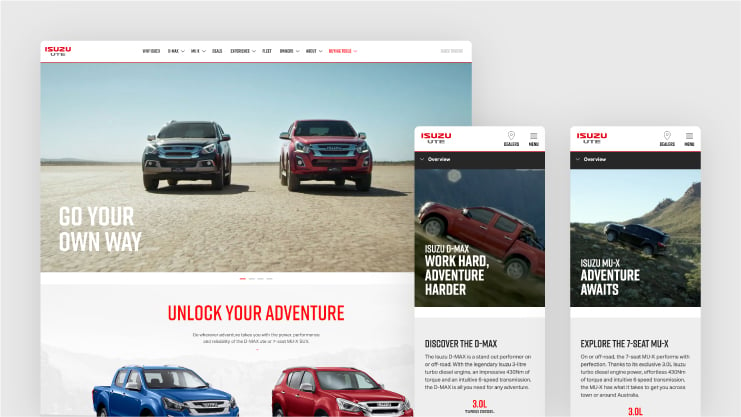 The fourth generation of the site, leverages a decade's worth of insights on buyer behaviour by using Sitecore's Experience Platform to personalise key moments of the customer journey.
Its real-time customer data capture enables IUA to find new ways to continually enhance the buying experience through a process of optimisation.
"This new platform, built on Sitecore 9, brings a range of exciting new opportunities across profile segmentation, personalisation and data-driven optimisation. In conjunction with this, we've completely redesigned the tracking and performance measurement strategy which looks closely at user engagement, alongside the traditional conversion points." says Chris Macer, Senior Marketing Manager Isuzu UTE Australia.
"Over the last decade, the combined IUA and Liquid team has developed a deep and sophisticated understanding of our customer's experience. I'm very excited to see how far we can go with this next level of martech behind us."
This combined IUA/Liquid team has previously been acknowledged for marketing effectiveness by Google, they've taken out the top prizes for Best Automotive Website and Best Mobile Experience at the AMY Awards, and achieved excellence in Purchase Behaviour at the Marketing Science Ideas Exchange (MSIX).
"Our success has been built on consistent and sustained iterative improvements," says Michael Burke, Managing Director Liquid Interactive.
"The IUA and Liquid team meet weekly and report on performance twice a month. For the best part of a decade, the teams have collaborated to discuss insights and implement improvements."
"We feel proud to have maintained such a strong relationship with such remarkable results and look forward to continuing to deliver great business outcomes on the new Sitecore marketing platform."
See the website: