We often think about our mark on the world through a measure of our accomplishments. We hope our
deeds and ambitions will leave a profound, positive change on the places and people we leave behind.

But it's not something anyone usually plans.

From work tasks, domestic life and pursuing hobbies and interests, the average individual has thousands of things to occupy their mind every day. For most of us, the last thing we want to think about is our own mortality and, perhaps even less so, paperwork.

This has led to an increasingly back of mind approach to the writing of a vital legal document - our Will.

Liquid's recent work with UNICEF Australia has challenged us to change how Australians see the value in their legacy through The GoodWILL Project - a joint initiative from UNICEF Australia and law firm DLA Piper.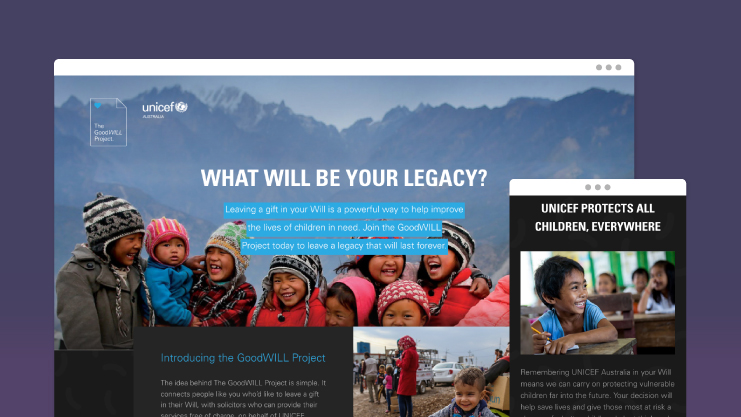 The conversation surrounding Wills is more often than not impeded by the "it won't happen to me" mentality, with recent studies suggesting that less than half of adult Australians have a Will prepared. This number could even be declining when compared to earlier studies which reported a figure around 60%. The largest single reason reported for this was procrastination - they just
didn't think it was a priority yet.
Less than half of adult Australians have a Will prepared.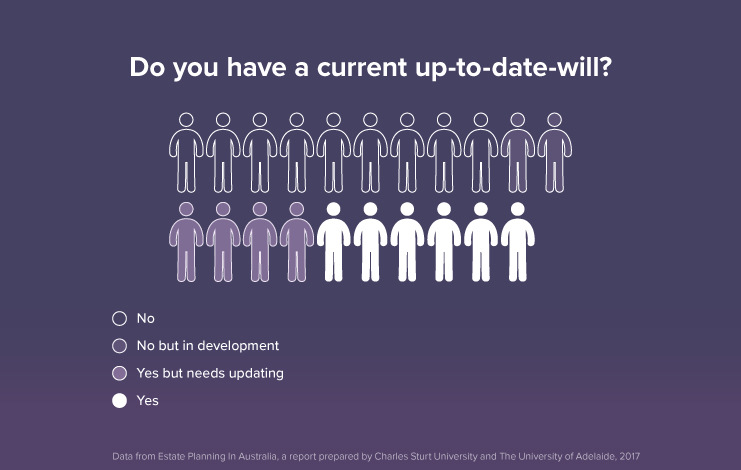 The idea that you only need a Will as you grow in age or assets needs to be challenged.

Everyone who has the capacity to make a Will, should, and regularly update it through important life stages such as changes in relationship, having kids or changing financial circumstances. You may not have a house or spouse, but you could hold less tangible assets such as super or life insurance benefits. Having a Will is the only way to ensure that your wishes are carried out and that your assets are distributed as you intend.

But they can also be more than that. Wills are, by design, a powerful source of altruism.

Australians pride themselves on generosity, evident in how often we contribute to charity and rally behind disaster relief funds, but leaving charitable bequests is a lesser understood and embraced option.

For most Australians, Wills are considered 'family documents' where most assets are kept within the immediate family - that is, those you believe are entitled to your assets as relatives or close friends. A survey conducted in 2015 reported only 16% of respondents considered that it was important to
provide for charities and organisations in their Wills. Further, recent research shows that less than 8% of Australians actually leave a gift to charity in their Will.
Wills are, by design, a powerful source of altruism.
The GoodWILL Project aims to start more conversations on leaving charitable bequests to improve this figure.

The initiative connects individuals and lawyers who want to make a difference with a simple offer - leave a charitable bequest in your Will and we'll draft it free of charge. Over 50 law firms around the country have signed up, offering their pro bono services to anyone with a desire to make a lasting impact with their legacy.
Research suggests more than three times as many Australians would be willing to leave a bequest in their Will if the option was more 'top-of-mind' during the planning process - an opportunity for The GoodWILL Project to make a real impact. Bequests make up a significant component of charitable income, and the resulting effect of more individuals choosing to gift a fraction of their estate
would be profound.

So consider updating your Will, or start planning one if you don't have one already. You can also learn more about The GoodWILL Project here.
Because making a profound, positive change for children around the world is a legacy that anyone, regardless of age and wealth, could be proud of.